Recap and Gifs
The episode starts off with Mr. Krabs complaining on the lack of customers again and the fact that he'll get a rash if he doesn't get money to make a money bath. Somehow I think that money is Mr. Krabs' blood and without it, h's dead. Heck The Lost Mattress even supports this.
Mr. Krabs eventually sees SpongeBob and Patrick waiting for customers or Patrick to feel hungry (whatever come first) and playing a game called Flying Dutchman Treasure Hunt which basically involves a treasure hunt.
Since apparently the joy of winning a fake treasure hunt is even better than customers giving money, Mr. Krabs decides to close early and throws out the one customer that comes which is the master of hurting his leg, Fred Fish.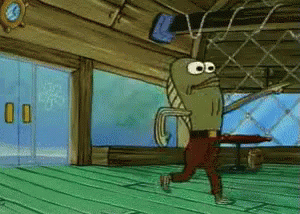 Continue reading "SpongeBob Season 1 Episode 17a Arrgh!" →